Our Ultimate Guide to the Best Puppy Food
Bringing a new puppy into your family is a big step, but it's one that will fill your lives with joy for many years to come. Naturally, there are plenty of concerns when having a puppy - such as what you need to feed it. Finding the best puppy food can be challenging as there are so many different options to choose from. Firstly, you need to figure out what type of dog food is best for puppies, then what's best for your breed of dog. Thankfully, we've got everything covered for you in this guide, detailing the best puppy food in Australia right now. By the time you've reached the end, you'll know exactly what food to go out and buy for the new addition to your family.
How is Puppy Food Different from Dog Food?
Your first question might be to ask if there's a difference between puppy food and adult dog food. Well, the answer is a resounding yes, it is very different. Think of it as how baby food is different from the food you eat as an adult. Puppies are young and they have a lot of growing to do, so they have different nutritional demands than adult dogs. Remember a puppy grows rapidly - from baby to adult in 12 months!
Typically, the main difference between the two is that puppy food contains more protein and energy than adult dog food. The levels of other essential nutrients are also different. Protein is an essential nutrient to help puppies grow big and strong. As such, they need more of it to help them develop. If you feed a puppy adult dog food, you run the risk of your puppy being malnourished and not growing properly.
So, if you're here looking for food for your dog, then you're not in the right place. Instead, check out our guide to the best dog food where you can find all the information you need.
What to Look for in Puppy Food Specifically
Building on the explanation above, what exactly do you need to look for in puppy food specifically?
Well, this depends on a few factors. For one, the puppy themselves will determine a lot of what you look for. The best food for small puppies will be different to the best giant breed puppy food because they have different nutritional requirements for healthy growth. The following sections will give you a good idea as to what you need to look for when buying puppy food:
Energy/Calories/Kilojoules - Higher levels of energy (or calories) to fuel that rapid growth.
Protein - Higher levels of protein to build muscles and other tissue around the body.
Fats - Fatty acids such as DHA, to support brain and vision development.
Essential Vitamins and minerals - the correct balance for a growing puppy is important - particularly the right levels of calcium and phosphorus for proper bone growth.
Antioxidants - these molecules support the developing immune system and they can be found in many fruits, vegetables and whole foods. Examples of antioxidants are Vitamin E & C, Beta carotene and selenium).
Nutritional Balance - Complete Puppy Foods
In Australia, we have a self-regulating pet food industry. So it is up to our manufacturers to take responsibility for the food that they produce. It is important to do a bit of research and read the label on the puppy food that you would like to purchase. What you are looking for is a puppy food that is complete and balanced. What does this mean?
Complete = all the essential nutrients that they need.
Balanced = the nutrients are in the right proportions.
In a complete and balanced puppy food all the essential nutrients for your puppy should be present in the correct amounts relative to the energy contained within the food.
What does a complete puppy food look like? Well, it should contain the following ingredients:
At least 22% protein

At least 8% fat

At least 1% calcium
It should also have a statement on it such as Complete and Balanced (nutrition) for puppies or growing puppies.
Obviously, checking the label is a good way to ensure that your puppy is getting the right nutritional balance in its food. Another way to feel comfortable that you're buying the best puppy food is to only buy from brands that follow the Association of American Feed Control Officials (AAFCO) ingredient standards. This is generally seen as the gold standard across the world, and any puppy food that's labelled as Complete and Balanced will meet or exceed this standard. Complete and balanced puppy food will have a statement on their label:
Meets the nutritional requirements of puppies established by the Association of American Feed Control Officials (AAFCO) or Complete and balance nutrition for puppies based on AAFCO feeding trials.
Large & Giant Breed Puppy Food Requirements
There is sometimes confusion when it comes to feeding large breed puppies. What is a large breed puppy? And what is this giant breed?
A Large breed is a dog that will be more than 20-25 kg up to 40 kg as an adult. If you are not sure about your puppy you can check with your vet. Breed specific puppy foods can help take the guesswork out for you. A Giant Breed is any dog that will be more than 40 kg as an adult.
Many puppies start out the same size, but you will soon see the difference as they grow. Large and giant breed puppies still need a puppy food - but should have a large breed puppy food. These foods provide controlled levels of nutrients (partifulary Energy and Calcium) for optimal growth while avoiding skeletal problems. This is so they do not grow too quickly and get too heavy for their developing bones. Controlled growth means that they do not gain too much weight, as this can cause problems later on in life. Large breed dogs will still be growing at 12-18 months of age. This is longer than small breed puppies, so their diet is slightly different.
Regardless of the size of your puppy you should always follow the feeding guide on the label or bag. This will prevent overfeeding (and underfeeding).
All Life Stages Food Explained
All life stage foods have been designed for every life stage that an animal will go through. This includes growth and reproduction, as well as adult maintenance. However, they will only meet the minimal nutritional requirements for puppies and dogs at any stage in their life. So, they can be safe to give to puppies, but only if they are clearly labelled as all life stages and have the Complete and Balanced label as well. As we have mentioned above large breed puppies can develop issues if fed inappropriately, so for these breeds it is best to look for one that is formulated to meet the nutritional levels established the AAFCO Dog Food Nutrient Profiles for growth/all life stages including growth of large-size dogs or stick to a large breed puppy food.
The only minor issue is that all life stages diets tend to be high on the calories side of things. As such, if your puppy isn't very active you should keep an eye on the portion sizes so they don't gain too much weight.
Types of Puppy Food
As with all types of pet food, there are different types of puppy food available. Here are the options you have at your disposal:
Dry Puppy Food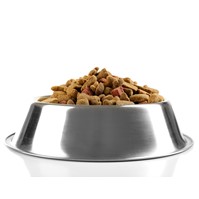 As pictured above, dry puppy food looks a bit like small biscuits for your puppy to eat. It can come in different varieties and sizes, with the one above being a dried chicken option from our website. There is some water in dry puppy food, but it is only around 11%. Typically ingredients are mixed together and then made into a dough-like substance that's baked and cut out into smaller shapes.
Many people choose dry puppy food for convenience - it does not need to be refrigerated once opened. There is also less mess created when feeding dry puppy food.
Wet Puppy Food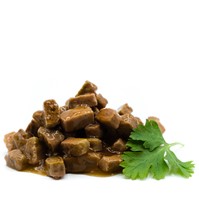 Wet puppy food contains a lot more water - usually between 70 and 85% - mixed in with the dry ingredients. It allows for a looser and wetter product that's chunkier than dry puppy food. It isn't as hard on the puppy's teeth either, and wet food will typically have a higher meat protein and lower energy content per portion. Most puppies will need some wet puppy food when they first start learning to eat as their teeth need to develop enough for them to chew.
Raw Dog Food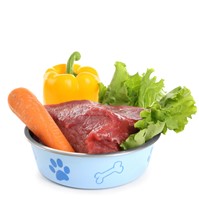 Next, you have which is usually a more natural option for your puppy. Here, you will feed them organ meats, muscle meat, raw eggs, and lots of other raw fruits and vegetables. It is seen as a 'natural' option as this is what dogs would eat if they were wild animals, like their wolf ancestors. These foods come in a few different forms
Refrigerated or frozen - these are the traditional BARF foods (Bones and Raw Food or Biologically appropriate Raw food)
Freeze or Air Dried Versions - which can be more convenient to store if you lack refrigeration space.
There are also raw puppy food mixes that can be added to raw meat to help establish a complete and balanced diet.
Like all puppy food you need to be sure that this food is complete and balanced for a growing puppy.
Grain-Free Dog Food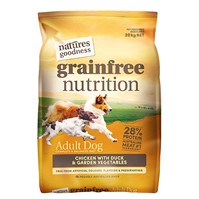 Grain-free puppy food is made without the presence of cereal grain. So, there's no barley, wheat, corn, rice, rye, oats, or soy in the ingredients. They are useful options if your puppy has an allergy or intolerance to any of the grains normally present in regular puppy food. Also, if you want a higher calorie option, the replacement carbohydrates in grain-free dog food is usually higher in calories.
What is the Best Puppy Food?
You've seen the different types of puppy food, and you know what to look for in puppy food. This all boils down to one question: what is the best food for puppies? Clearly, we can't slap one product on the table and tell you that it's the ultimate puppy food that's better than all the rest. As we've already alluded to, there are plenty of different factors that determine what food is the best for your puppy specifically.
Consequently, the following sections will break down the best puppy foods based on different categories. We've covered every single category we can possibly think of, so you'll be able to choose a selection of foods for your puppy!
Best Dry Puppy Food
There are four options that make our list for the best dry puppy food:
Meals For Mutts MfM Turkey Salmon Sardine Puppy And Whelping Dry Dog Food - This product has Complete and Balanced nutrition and is specifically designed for puppies and whelping dogs. It's also hypoallergenic and gluten-free, for those puppies with sensitivities. You get natural ingredients and an excellent source of protein from turkey, making this a wonderful option for your puppy.
Black Hawk Lamb And Rice Puppy Dry Dog Food - Another Complete and Balanced nutrition puppy food with quality protein to promote lean muscle development. There's actually 30% protein here, which exceeds the minimum requirements for a growing puppy. It's packed full of essential vitamins and minerals and has over 150 reviews averaging out at five stars.
Advance Chicken All Breed Puppy 2-15 Months Dry Dog Food - Specially formulated for puppies up to 15 months old, this dry dog food contains ample amounts of chicken to ensure it reaches the optimal protein requirements for growing dogs. It also boasts fish oil and Choline, both of which are shown to help support brain development in puppies.
Hills Science Diet Chicken Meal Barley Recipe Puppy Dry Dog Food - Featuring a completely balanced nutritional formula, this dry dog food is made for puppies up to 12 months of age. It promotes optimal growth and development, giving your puppy all they need to grow with no problems. There are optimal mineral levels to support the skeletal development as well, also ensuring your puppy has strong teeth.
Best Wet Puppy Food
If you'd prefer to feed your dog wet puppy food, here are our top three picks in this category:
Advance Chicken With Rice Puppy Plus Growth Canned Wet Dog Food - Nutritionally complete and balanced, this wet option is made for the specific needs of puppies. It's made from Australian chicken, with controlled calcium levels for ample bone and teeth development. It's soft and easy to eat and boasts a five-star rating from 76 reviews.
Eukanuba Lamb And Rice Puppy Canned Wet Dog Food - One of our premium canned options that help to promote a balanced diet in puppies. It contains high-quality animal proteins to let your puppy grow naturally, as well as providing all the energy a puppy needs to live life to the fullest. A rich blend of antioxidants promotes immune system health, leading to 24 customers giving this a five-star review.
Best Raw Puppy Food
For the best raw puppy food, we've identified the following products as the top options to consider right now:
Vets All Natural Complete Mix Puppy Raw Dog Food - This is a 100% natural mix that you can combine with raw meat to create a complete and balanced diet for puppies under 2 years of age. Many years of research and trials went into developing this blend, giving you the confidence that it contains all the nutrients and ingredients your puppy requires. Effectively, this is a muesli-type mix that represents the natural raw vegetables a dog might eat in the wild. The aim is to provide your own raw meat to combine this with, giving your puppy a proper and natural meal.
Best Grain Free Puppy Food
Do you want your puppy food to be grain-free? Here are the best choices:
Applaws Chicken And Turkey With Cranberry And Sweet Potato Grain-Free Natural Dry Dog Food - 100% natural ingredients and complete and balanced nutrition. This is an all life stages option for you to consider, containing 50% meat from Australian sources, 7 superfoods, and sweet potato for slow-release carbohydrates. Currently boasting a five-star rating on our site, this puppy food also has a naturally-occurring nutrient that supports immune system health.
Ivory Coat Natural Health Grain Free Chicken Puppy Dry Dog Food - Made for puppies up to a year old, this dry dog food is free from any grains and gives balanced nutrition for everyday feeding. It's Australian-made, which is always a plus, and has a high concentration of animal proteins for lean muscle maintenance.
Best Giant Breed Puppy Food
Giant breed puppies will have different requirements than regular puppies. For those of you with a giant breed, here are the best products to pick:
Advance Chicken Large/Giant Breed Puppy 2-21 Months Dry Dog Food - Scientifically formulated to help large/giant puppies grow as nature intended. The product is Australian-made and has a host of natural ingredients with balanced calories, calcium and no artificial colours or flavours. It has been designed to support a controlled growth rate in large and giant breeds, so they don't overgrow and get too big, too quickly. Over 100 customers have given this an average of five stars on our site.
Royal Canin Giant Junior Dry Dog Food - Another option if you want the best dry puppy food for giant dogs. It's specifically formulated for giant breed puppies that will grow to over 45kg in weight as an adult, and is good to eat up to their second birthday. 22 reviews have given this five stars overall, and it helps to support both digestive and immune health in giant puppy breeds.
Best Large Breed Puppy Food
For large breed puppies, these are our best choices for you:
Hills Science Diet Chicken Meal Oats Recipe Large Breed Puppy Dry Dog Food - With nearly 150 reviews giving this an average score of five stars, this is a product you can trust. It gives your large breed puppy the precise balance of nutrients needed to grow at a controlled rate. There's an ideal balance of protein, fats, and carbohydrates, with managed calories to ensure they don't grow too quickly. With DHA from fish oil to support healthy brain and eye development you can be sure your large breed puppy is getting the best.
Royal Canin Maxi Puppy/Junior Dry Dog Food - This is the same product as the one for giant breeds, only slightly altered to suit large puppies instead. As such, any puppies that will grow to between 26 and 44kg as an adult will be suited to this dry dog food. It's nutritionally complete and balanced but is also aimed at breeds that need a lot of energy.
Best Puppy Food for Small Breeds
Of course, small breed puppies also have special requirements as their smaller bodies mean they don't need to eat as much as bigger dogs. So, here are our picks for the best small breed puppy food:
Eukanuba Lamb And Rice Puppy Canned Wet Dog Food - Wet dog food is always good for small breeds as it's easier to chew and digest. A premium formula promotes a balanced diet for your puppy, with animal-based proteins at the heart of the ingredients. This is a five-star product according to our customers.
Royal Canin Mini Puppy/Junior Dry Dog Food - Again, specifically designed for small breeds, this product is aimed at puppies with an expected adult rate of up to 10kg. Therefore, this is aimed more at mini breeds, rather than small ones. Still, it boasts a five-star rating from over 100 reviews, making it a trusted product from dog owners across Australia.
Best Puppy Food Made in Australia
Those of you that want local ingredients in your puppy food will want to check out the best puppy food made in Australia:
Ivory Coat Lamb And Brown Rice Puppy Dry Dog Food - Perfect for small-medium breed puppies. The key ingredient is Australian lamb, offering a high-quality source of protein that takes the overall protein content up to an impressive 30%, perfect for growing puppies.
Best Supermarket Puppy Food
Naturally, many people want to do their puppy food shopping when they are shopping for the rest of your family. A lot of brands aren't available in supermarkets like Coles and Woolworths, and you also get many puppy food options that aren't of a high quality. With that in mind, here are two products you can find in supermarkets around the country that give your puppy all the nutrients it needs:
Supercoat Real Chicken Puppy Dry Dog Food - Available in a large 18kg bag, this supermarket puppy food gives complete and balanced nutrition for puppies up to a year old. It's perfect for puppies of all breed sizes as well and is even made with real chicken.

Optimum Chicken Puppy Dry Dog Food - Suitable for puppies up to a year old, this gives a diet that's high in energy and has all the nutrients needed to support a puppy's natural development. It is made with real meat and good ingredients to make it digestible and nutritious and is available at most big supermarkets.
Best Puppy Food to Help Prevent Hip Dysplasia
Hip dysplasia is a common inherited deformity that occurs to the hip joint during growth. It is a genetic disease that is affected by many factors such as diet, growth rate, muscle mass, exercise, hormones and the environment the puppy lives in. As it is most commonly seen in large breed dogs, it is best to keep large breed puppies at a normal lean weight while they are growing. Thankfully, you can help delay onset or reduce progression of this condition by giving your puppy the right food. Here are two options to do just that:
Both products are from the same brand and contain the same ingredients, they've just been formulated slightly differently to target specific breed sizes. The first option is for large breed puppies and the second is for giant breeds.
The Best Rated Puppy Food Brands
After reading through all of the best puppy food options, you'll have come across some common brands that keep cropping up. So, this section will be dedicated to walking you through some of the best-rated puppy food brands around right now. These are the brands you can trust to deliver high-quality food for your puppies: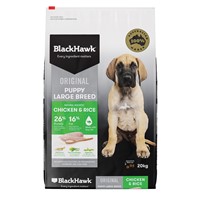 Black Hawk
5-star reviews: 3,450
Black Hawk is an Australian brand that uses Australian ingredients in all of its products. You will always find natural ingredients and complete and balanced nutritional profiles from their puppy food. The brand also offers a good range of grain-free options that are always highly rated amongst our customers.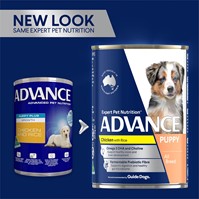 Advance
5-star reviews: 2,369
Advance are experts in pet nutrition and make all of their puppy food with quality Australian ingredients, including chicken sourced from local Aussie farmers. The company prides itself on using science to create the best puppy food formulas for general health, digestive and oral care.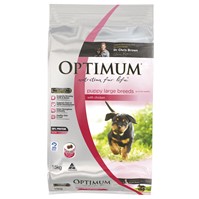 Optimum
5-star reviews: 114
Optimum specialises in dry dog food for dogs of all breeds and ages. Again, it's all made in Australia, using local ingredients and Australian meat. The products are expertly formulated to be easy-to-digest, as well as give a nutritionally complete and balanced meal that your puppy will love.
Royal Canin
5-star reviews: 5,970
Royal Canin offers both wet and dry food for puppies, including special formulas for stomach, skin and oral care. The brand is particularly good at providing products for specific puppy breed sizes, helping you to find the right food for your pup.
Hills Science Diet
5-star reviews: 3,924
As the name suggests, Hills Science Diet is all about using science to create puppy food that's complete and balanced. All the products use all-natural ingredients with no artificial colours or flavours. Again, this puppy food brand also has products tailored to puppies of certain sizes. This means you can get dry puppy food varieties that are designed to be smaller and easier to chew for small/mini breeds.
Our Best Puppy Food Picks
Here's our pick of the best puppy foods you can buy:
Comparison Table
Brand

Type of Food

Origin

Reviews

Nutritional Info

Advance Chicken With Rice Puppy Plus Growth

Wet

Australia

5 Stars Reviews: 76

Complete and balanced.

Controlled calcium:phosphorus ratio.

Enhanced levels of Omega 3 DHA and Choline.

Enhanced levels of zinc and linoleic acid.

Vitamin C, E, Beta Carotene, Taurine & plant extracts.

Fermentable fibre.

Dry

Australia

5 Stars Reviews: 47

Complete and balanced.

Real chicken.

DHA from fish oil.

Added calcium.

Vitamin E

No artificial colours or flavours.

Meals For Mutts MfM Turkey Salmon Sardine

Dry

Australia

5 Stars Reviews: 139

Complete and balanced.

Hypoallergenic, gluten-free, natural, organic and holistic.

Free from grain.

Natural protein sources.

Rich in vitamin B6, niacin.

High in protein, low in fat.

Source of iron, zinc, potassium and phosphorus.

Omega 3, 6 and 9 (DHA & EPA).

Yucca Shidigera, a natural plant extract to reduce faecal odours.

Wet & Dry

France

5 Stars Reviews: 5,970

Complete and balanced nutrition.

Exclusive combination of nutrients for digestive health.

High energy content.

Reduces tartar formation due added calcium chelators.

Antioxidant complex and prebiotics to support the immune system.

Wet & Dry

USA

5 Stars Reviews: 3,924

Complete and balanced nutrition.

Tailor made blends to support the unique needs of different puppy breed sizes.

High-quality protein.

Combination of minerals to promote strong teeth and bones.

DHA from fish oil for healthy brain and eye development.

Omega-6s and vitamin E for skin and coat health.

Antioxidant blend with vitamin C for the immune system.

Natural ingredients with no artificial colours or flavours.