What is the Best Dog Food?
The best dog food will depend on you and your dog and will be different for everyone. This guide is to help you make the most informed decision when choosing the right dog food for your furry friends. We've gone over all our dog foods, so you can find the best dog food for your pooch. We've analysed the best dog food brands, best dry dog food, best wet dog food, best supermarket dog food, and more!
What to Look for in Dog Food
When trying to determine the best dog food in Australia, there are several factors we take into consideration.
Balanced Nutrients and Quality Testing
The pet food industry in Australia is self-regulating, which means it's entirely possible to produce cheap dog food with fillers that have limited nutritional benefits and fill your dog up but it's not a high quality meal. Look for brands that follow the Association of American Feed Control Officials (AAFCO) ingredient standards. When you see "Complete and Balanced" on a dog food label, that should mean that the contents meet or exceed AAFCO minimum standards.
Animal Protein & Fat Content
The minimum standard for an adult dog to maintain a good weight and health requires food to contain at least 18% protein, 5% fat, and maximum percentages of crude fibre and moisture. Some dog foods guarantee minimum levels of other nutrients such as calcium, phosphorous, sodium, and linoleic acid which are especially important for bone growth in puppies.
No Nasty or Ambiguous Ingredients
Try to avoid food with these ingredients: BHA/BHT (chemical preservatives), white flour, unnamed meat or meat meal, artificial colours, MSG, gluten, corn syrup, soy, salt, propylene glycol, vegetable oil, and cellulose.
Tried and Tested
Look for a reputable brand with a long-standing reputation and good consumer feedback. Customer reviews are a good way to assess the brand and find out if dogs like it too. You can find customer reviews on most of our products via the product page.
Lifestage
Much like humans, dogs have different nutritional requirements during different stages of their life, so the same food will not be suitable for both puppies and adult dogs. Providing an appropriate diet based on your dog's age will help to ensure a happy and healthy life.
Puppy
When a puppy is growing, the right food is essential in their development and health. Puppies need more calories from protein and fat because they burn more calories while growing and playing. When choosing a puppy food, look for more whole meats and smaller amounts of fruits and vegetables. These meat proteins promote development and growth.
Adult
During the adult stage of their lives, dogs need nutrition to maintain their muscle mass and weight. Meat proteins are the best source of nutrition for adult dogs. It is these proteins that help them maintain lean muscle mass.
Senior
What is the best dog food for senior dogs? Older dogs have a slower metabolic rate so can benefit from a lower calorie diet to help prevent them from becoming overweight. Many senior foods have higher-quality protein sources which help to maintain body weight and muscle mass without putting too much strain on the kidneys. Senior diets also tend to be slightly higher in fibre to help improve gastrointestinal health and reduce constipation.

Types of Dog Food
Each dog is different so the best dog food for them will depend on your dog's lifestyle, size, weight, age, and health conditions.
Best Dry Dog Food
Dry foods can assist in the removal of plaque, improving dental hygiene. They also are easier to store and are usually less expensive. But with such a diverse range of dry foods out there, it can get overwhelming. Two great options are Royal Canin and Hills Science Diet. Royal Canin places in here for their breed-specific range, individually tailoring dry food to a range of different dog breeds. Hill's Science diet uses cutting-edge food science to develop precisely balanced nutrition for each stage of your pet's life.
Best Wet Dog Food
A lot of dogs don't get enough water so incorporating wet food into their diet can help with extra hydration. It's great for fussy eaters as it has a rich, meaty aroma, so picky dogs can be more enticed to eat. Two great wet dog foods are Advance and Eukanuba. Keep in mind wet food is generally more expensive than dry food but it does help give your dogs a complete and balanced diet.
Best Grain Free Dog Food
For grain free food we have Black Hawk, Nature's Goodness, and Meals for Mutts, all with high customer popularity, formulated to meet the AAFCO standards and made here in Australia. As well as all of this; Black Hawk is a wet food that can be used as a complete meal on its own or added to our dry food to complement your pet's meal. Nature's Goodness contains optimal protein levels (28%) to aid lean muscle development and maintenance. Meals for Mutts is Scientifically formulated by food technologists and nutritionists.
Best Dog Food for Puppies
Puppies are full of energy and their constantly burning calories so they need a high-calorie diet to meet their energy needs during their growth. Two great choices are Eukanuba and Royal Canin, both supporting muscle health and puppies' development and immune system. Both of these also taste great!
Best Hypoallergenic Dog Food
Sensitive Stomachs and Sensitive Skin
Best Supermarket Dog Food
The best supermarket ranges are Optimum and Supercoat. These are both made with real meat/fish and quality ingredients. Both are a complete and balanced diet making them AAFCO approved. Plus they're Australian-made with no artificial colours or flavours.
Best Dog Food for Weight Loss
Advance, Royal Canin, and Science Diet all produce a range of reduced-calorie foods specially formulated to help dogs lose weight and then maintain a healthy weight. With all foods, portion control and following the feeding guide along with regular exercise is important in maintaining a healthy weight.
The Best Dog Food Brands Based On Customer Reviews
The best dogs food chosen by our customers:
Hills Science Diet
5-star reviews: 3,502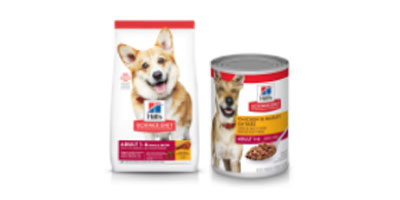 With natural ingredients and the right nutrients, Hill's Science Diet is precisely prepared to offer your dog the nutrition he needs for lifelong health and happiness. Free from artificial colours & flavours Hill's Science Diet is available in both wet and dry food for puppies, adult and mature dogs.
Royal Canin
5-star reviews: 5,115
Research breed-specific traits and combine scientific and nutritional research to create precise nutrition for your specific breed of dog. Incorporate high-quality ingredients to produce foods for special health conditions. Available in both wet & dry food, Royal Canin has food for all life stages.
Advance
5-star reviews: 2,113
Made in Australia, Advance products are scientifically formulated to help improve dog health. Advance dog foods are recommended by top breeders and professional dog groups. In addition to foods for specific breeds, they also cater for all life stages with puppy, adult and senior varieties.
Natures Goodness
5-star reviews: 786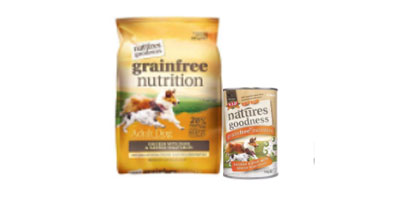 Natures Goodness offers grain free nutrition with meat as the first ingredient. Free from artificial colours, flavours and preservatives, they have dry, wet, chilled food and treats in their range. Natures Goodness is made in Australia with Australian meat.
Black Hawk
5-star reviews: 3,205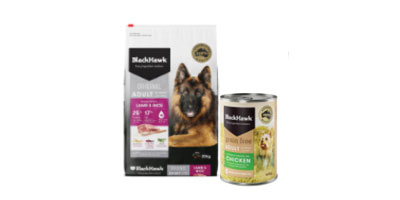 Black Hawk products are manufactured in NSW with Australian ingredients. The pet foods in the Black Hawk range are all free of wheat, corn, artificial preservatives, colours & flavours. Black Hawk offers a range of wet, dry food and treats and has varieties for adults and puppies.