What Are The Best Dog Beds?
Your dog deserves to have a comfortable place to sleep at home. A dog's bed is their own special place, where they can go not just to sleep but also to get some time on their own. If you're looking for the best dog beds in Australia, our range of affordable options will help you to choose the right bed for your pooch. There are so many options that choosing just one can be a little confusing, but our comprehensive guide will take you through what's available and help you to find the right one.
Take a look at our tips and recommendations for the best dog beds to find a bed that works for you and your four-legged friend.
What Are the Different Types of Dog Beds Available in Australia?
You can find many different types of dog beds available to buy in Australia. When you're searching for the perfect bed, keep these options in mind.
Classic
Classic dog beds offer you a basic option that will meet the needs of many different dogs. They offer a comfortable place for your dog to sleep without having any special features. If you don't need anything fancy, this type of bed should be suitable for your dog and their needs.
Calming
Dogs that have a nervous disposition or can get a little too excitable may benefit from a calming bed. When you're looking for a bed that will offer your dog comfort and help them to calm down, something warm and plush can help. You should also consider looking for a bed that will surround your dog, so they can snuggle in and feel protected.
Raised
As the name suggests, a raised bed is lifted off the floor. There are several advantages to this type of bed. They are ideal for larger dogs that may feel more comfortable stepping onto a raised bed. They're also excellent for senior dogs with joint problems, providing them with a comfortable bed that they can get on and off of easily.
Orthopedic
Orthopedic dog beds are designed to support your dog's joints and muscles, making them a great choice for older dogs or dogs with joint problems. Orthopedic dog beds are typically firmer to provide the necessary support. They ensure that your dog doesn't sink into the bed and retain their shape even after long-term use. They will often feature memory foam and other layers for comfort and support.
Memory Foam
Just like you might choose a memory foam mattress for your bed, your dog's bed can also be made with memory foam. Memory foam is designed to mold around the dog to create support in all of the right places. It relieves pressure and supports your dog's back and joints, similar to what a memory foam mattress would do for you.
Heated
When it's colder in the winter, your dog can start to feel the chill too. A heated dog bed helps your dog to stay warm, which is especially important for puppies and older dogs. A heated dog bed might have a heating pad inside it, which is often removable. So you can transform it into a normal bed when it's not cold enough for a heated one.
Cooling
In the summer, you have the opposite problem. You need to keep your dog cool to prevent overheating. A cooling bed gives your dog a cool surface to lie on, which will help to stop them from getting too hot. You can get simple cooling mats or beds with built-in cooling features.
Waterproof
A waterproof dog bed is perfect for outdoor use but is also a great choice for anyone who wants to keep their dog's bed clean and dry. With a waterproof cover, you can expect it to stay in good condition. Waterproof beds will not only survive getting wet, but they also make it easier to wipe up spills (or drool).
The Best Overall Dog Bed for Small Dogs
Our pick: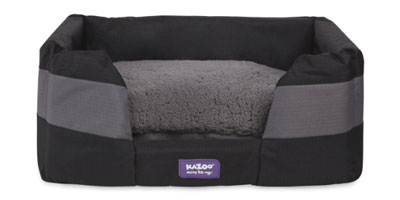 Kazoo Cave Cushion Basket Winter Bed Small For Dogs And Cats
This cosy bed for small dogs is the perfect pick when you're looking for somewhere your dog can snuggle in. The cocooned, high wall design and the plush fabric mean that your small dog can settle in and enjoy this bed all year round. The fabric is water-resistant, tear-resistant, and durable, so it can be used both indoors and outside under cover. With a zipper on the cover, the cushion can be removed for easy washing too.
This bed comes in black and grey, which makes it suitable for wherever you choose to put it. The small size measures 55.5cm x 44cm x 23cm (with an entry height of 8.5cm), but there are also three other sizes available. This bed has received all 5-star reviews in our store, from customers whose dogs love it.
Choose this versatile bed for your small dog if you're looking for something cosy and compact. The reversible cushion offers one cool polyester side and one fluffy side for use in all seasons.
The Best Overall Dog Bed for Large Dogs
Our pick: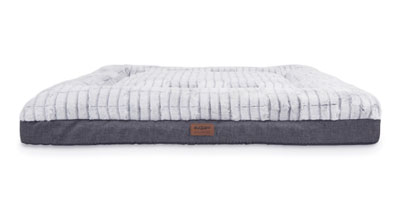 Kazoo Cloud Comfort Grey Mattress Winter Bed XLarge For Dogs
Larger dogs need larger beds, and this extra-large option is ideal for large breeds. Bigger dogs often need more support, and this bed has orthopedic memory foam to provide the support required. It contours to the dog's shape and holds their weight, easing the pressure off their joints. Over the memory foam, there is a soft, plush material that feels lovely and looks great too, in stylish light and dark grey. The bed is raised around the edge to provide extra support for the dog's head, and the long shape provides plenty of space.
This bed is easy to wash thanks to its removable cover. It's suitable for gentle machine washing so you can quickly clean it. The non-slip base of the bed keeps it in place even when your dog is moving around. It's a durable bed, with the extra-large size measuring 110cm x 80cm in length and width, and 15cm in height. The sleeping area measures 78cm x 48cm, with a raised pillow boarded 16cm wide on all sides. It's also available in medium and small size.
The Best Calming Bed for Dogs
Our pick: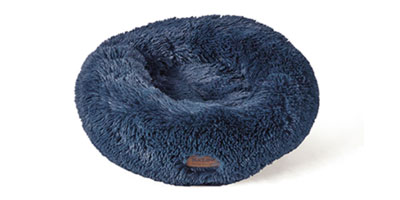 Kazoo Peacock Round Plush Winter Bed Cloudy Blue Medium For Dogs
When your dog needs somewhere to calm down, the right bed is crucial. We think this cosy bed from Kazoo is the best calming dog bed in Australia. It's designed to allow your dog to settle in and gain comfort from the plush faux fur material and padded walls. The high walls make this bed a fantastic choice for anxious pets that might need a little extra comfort and security. The bed holds them securely and gives them a space to hide away if they want to escape from the hustle and bustle of the wider world.
The bed has a non-slip base to hold it in place, and it's made to be able to hold its shape over time. It's best used indoors, with a diameter of 64cm (32cm inside) and 16cm in height. The soft stuffing in the cushion makes it super comfortable for dogs needing that calming feeling. The cushion is sewed into the cover, so it won't loss it's place. The whole bed can be gently machine washed or hand washed to keep it clean. This bed has received nothing but positive reviews from our customers.
The Best Dog Bed for Puppies
Our pick: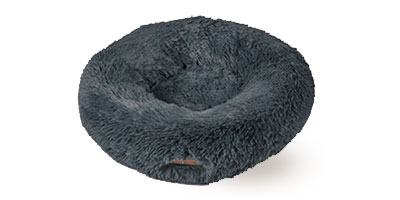 Kazoo Peacock Round Plush Winter Bed Stormy Grey Small For Dogs
Puppies often don't need a very big bed. A bed that's too big might not feel very secure for them, and it can also be a waste of space in your home. The small Peacock Round Plush Bed from Kazoo is the perfect size for puppies. It's also a cosy bed that's a great pick for a puppy that might still be adjusting to being away from its mother. This warm and snuggly bed has a sewn-in cushion with high walls, which creates the perfect places for your puppy to curl up and take a nap.
The stormy grey colour is smart and sure to look good in any home. The small size is also available in a brighter blue-green for anyone who prefers a little more colour. The soft, flexible bed will provide a safe space for your new puppy, helping them to adjust to their new home with ease. You can wash the bed on a gentle washing machine cycle or hand wash it to protect it. The small size is 61cm in diameter with an inner sleeping area of 30cm, making it an ideal size for small puppies and smaller adult dogs too.
The Best Dog Bed for Senior Dogs
Our pick:
Kazoo Cloud Comfort Grey Mattress Winter Bed Large For Dogs
Senior dogs often need some extra support from their beds. This is because, as they get older, they might have mobility problems and pain in their joints. It can be more difficult for older dogs to get up and down, and they need somewhere comfortable and supportive to lie down. This comfortable bed contains high-density orthopedic memory foam, which will provide the support that your senior dog needs. It prevents the dog from sinking too far into the bed and relieves pressure and pain for more comfortable sleeping.
The top of the bed has a lovely plush material that's super comfortable and soft to the touch, while the bottom is non-slip to keep it in place. The cover can be removed from the foam base meaning it's machine washable. This large bed has a surface area of 98cm x 68cm and it's 15cm tall, providing a sizable space for your dog to sprawl out on. It's easy to get on and off and it has a raised pillow border for extra comfort too.
The Best Orthopedic Dog Bed for Dogs
Our pick: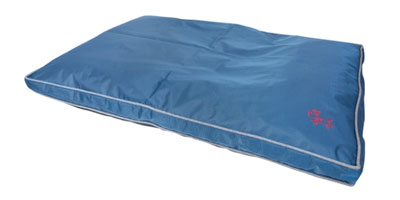 Yours Droolly Osteo Contour Support Navy Outdoor Winter Bed Medium For Dogs
Dogs that need support for their bones, joints, and muscles benefit from specialised orthopedic beds. This option from Yours Droolly is designed to provide osteo support and plenty of comfort to older dogs, bigger dogs, dogs with joint issues, or any dog that requires some extra support. It's filled with Visco Elastic Memory Foam cubed crumb filling, which helps the bed contour to the dog's body and support their muscles, joints, and spine. The foam not only provides plenty of support but also helps to keep the bed cool due to pockets of air forming around the foam and helping to regulate the temperature.
This is a hypoallergenic bed that's resistant to dust mites. It's a good choice for outdoor use, thanks to its durable mattress cover. The mattress cover can be wiped clean with ease and is also removable and can be machine washed. It's non-slip on the bottom to keep it securely in place and it's waterproof and breathable to help keep it clean. The bed holds its shape thanks to the interior baffles in the cushion, which keep the foam cubes in place.
The Bed Dog Bed for Dogs That Chew
Our pick: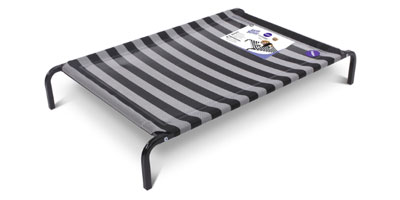 Kazoo Classic Daydream Trampoline Black/White Medium Dog Bed
A dog that loves to chew things can present a challenge when you're looking for the right bed. It can be a hard habit to get your dog to break, especially if you're dealing with a teething puppy. If your dog tends to chew things up, you need something durable that can't be chewed through easily. This raised bed design from Kazoo is an excellent choice for dogs that can't control their chompers. Rather than giving your dog something with lots of fluffy fabric that they will chew through, try this bed with durable mesh material stretched across a heavy-duty frame.
It's a stylish and comfortable bed that provides plenty of ventilation during hot weather thanks to the raised design. The double-weaved mesh material is durable and should prevent your dog from chewing their bed to pieces. It's also suitable for outdoor use being breathable and with no hiding spots so it keeps bugs away. It's made with a steel frame that's coated to protect it from the elements. Cleaning it is easy too; just wipe it or hose it down, then leave it to dry. If you want the best dog beds for large dogs that chew, there are large and extra-large options available.
The Best Cooling Dog Bed for Summer
Our pick:
Scream Cooling Pad Mat Bed Loud Blue XLarge For Dogs and Cats
Australian summers can get pretty hot, and it's important to be able to keep your dog cool. When you're looking for the best cooling bed for your dog, this cooling pad from Scream could work out for you. It works by drawing heat away from your dog's body and evaporating it back into the air. There's no need to freeze or chill it, and it doesn't require a power source to make it work, either. You can spread it out or you can fold it up so that it fits into your bed's crate or kennel.
The interior of the bed is made from sponge and gel. The gel is the same type of gel used in many cooling pads and ice packs. On the outside is polyester with a PVC coating. It's non-toxic and durable, so you can use it both indoors and outside. It's easy to clean due to its wipeable material and folds up for travel too. This comfortable mat will keep your dog cool and it can soothe any aching joints at the same time.
The Best Outdoor Waterproof Dog Bed
Our pick: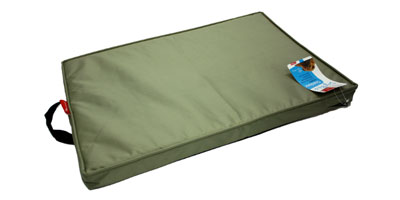 Yours Droolly Water Resistant Bed Crate Mat 42-inch
For dogs that spend a lot of time outdoors, an outdoor bed is a must. Outdoor dog beds need to be durable and waterproof to protect them from rain and help to keep them clean. This water-resistant bed from Yours Droolly is perfect for using outdoors due to its durable cover made from synthetic, water-resistant fabric. Inside is a comfortable foam cushion insert, which can be removed from the zippered cover so that the cover can be washed.
This bed is ideal for use in crates and kennels. It has a soft webbing handle at one end, which you can use to pull it out of a crate or kennel more easily. It's also perfectly suitable for use on its own, whether you use it indoors or outdoors. The 42" size is a 104cm x 68cm and is 5cm thick. It's a comfy bed that's suitable for large dogs, but it's also tough with a non-slip bottom and available in a range of colours.
The Best Heated Dog Bed for Winter
Our pick: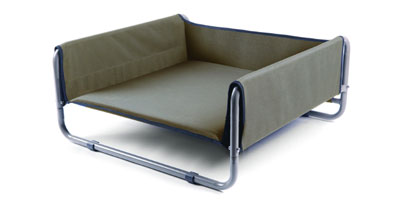 Kazoo WindShield Deluxe Raised Bed Cappuccino Medium For Dogs
During the colder months, a heated bed can keep your dog warm and cosy. The Kazoo WindShield bed has a removable radiant heating pad that provides extra warmth for your dog. It also has a clever design made for wind protection, with three high sides that protect your dog from the wind when outdoors. The heavy-duty steel frame and the durable fabric, which is high-density, UV-treated, and tear-resistant, making it a great dog bed for using outside too.
The medium-sized bed, which measures 70cm x 70cm and is 28cm high, is suitable for dogs weighing up to 25kg. That makes it a good choice for medium-sized dogs, such as beagles, schnauzers, cattle dogs, staffies, and more. The high-density foam cushion is comfortable and the strong base insert provides lots of support. It's easy to put together, so you can have it assembled and ready to use quickly. It's a stylish bed too, with a neutral cappuccino colour that will look good in any home. You can use this bed indoors or outdoors to give your dog a comfortable place to sleep all year.