Choosing The Right Toys For Your Dog
Looking for the best dog toys? You've come to the right place! In this article, we will discuss some of the types of dog toys that are available and what you should look for when purchasing them. The best mental toys for dogs are a great way to keep your pet entertained and can also help with obedience training. Finding the best toys for high energy dogs is important too as it can help avoid any bad behavior from dogs that are not exercised enough.
We will provide some tips on how to choose the right toy for your specific dog. So, whether you're looking for a new toy for your furry friend or simply want to learn more about them, read on!
Table of Contents
Why Are Toys Important For Your Dog?
What Should You Avoid In A Dog Toy?
The Different Types Of Dog Toys
How Many Toys Should Your Dog Have?
Why Are Toys Important For Your Dog?
Dogs need toys for many reasons. They can provide entertainment, give them lots of exercise, help with obedience training, and keep your dog's mind active. Toys are also a great way to avoid destructive behavior in dogs and stop them from chewing on things in your home.
What To Look For In Dog Toys
When choosing toys for your dog, there are a few things you should keep in mind. The first is size. You want to make sure the toy is not too small or large for your dog to handle. Toys that are too small can be easily ingested and can cause choking hazards. On the other hand, large toys can become dangerous if your dog plays too rough and starts to chew on them (if they are not designed specifically for chewing).
Consider the material that the toy is made from too. Some materials, like rubber, are easier for dogs to chew on and can help clean their teeth. Others, like fabric or feathers, may be more appealing to your dog but can also be a choking hazard if ingested. Make sure that any toy you choose is made from non-toxic materials too.
Interactive toys are also a great option because they help to keep your dog entertained and allow them to play independently of you. They also help to keep their mind sharp.
When you are looking for the best puppy toys, keep in mind that puppies have different needs compared to adult dogs. They need toys that are soft and can be easily chewed on, like rubber or nylon bones. Puppies also love to play fetch and tug-of-war, so look for toys that are designed for those activities.
What Should You Avoid In A Dog Toy?
There are a few things you should always avoid in a dog toy. Firstly, avoid any cheap plastics that can easily splinter when chewed because they are a serious danger to your dog. The same is true of wooden toys, so always look for high-quality rubber or fabric toys.
Painted toys can also be hazardous to dogs, so they are best avoided. As are any toys that are particularly hard because chewing on them could damage your dog's teeth.
The Different Types Of Dog Toys
There are so many types of dog toys to choose from and the right one depends on your dog, their personality, and their care needs. Before you choose toys for your dog watch them play and see what they enjoy doing. These are some of the main types of toys that you can choose from.
Balls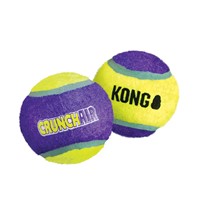 Balls are a classic dog toy and most dogs love them. They are perfect for fetch and can keep your dog entertained for hours. You can find balls made from a variety of materials, including rubber, fabric, and plastic. The best dog toy balls need to be durable because they'll get a lot of use. A simple set of tennis-style balls like the KONG CrunchAir is perfect for almost any dog. They even have a distinct crunching sound that will keep your dog entertained. Balls are one of the best toys for high energy dogs that love to run.
Squeaker toys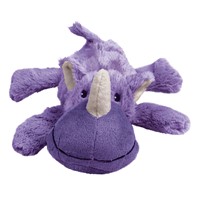 Squeaker toys are another favorite among dogs and come in a variety of shapes and sizes. They are usually made from soft materials, like fabric or rubber, so they are safe for your dog to chew on. The squeaker sound imitates the sound of prey, which will excite your dog and keep them entertained. The Rosie Rhino Plush Squeak toy will keep your dog busy for hours.
Rope Toys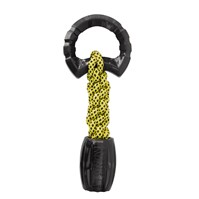 Rope toys are perfect for dogs that love to play fetch and tug-of-war. They are also a good choice for aggressive chewers because they can withstand a lot of attention The KONG Jaxx Braided Rope Tug Toy is a great option for the boisterous chewer.
Dental Toys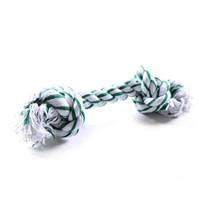 Dental toys are specifically designed to help improve your dog's oral health while playing. They come in all sizes and types depending on if you have a puppy or an adult dog. They are invaluable for teething puppies providing relief to sore gums and good exercise for growing mouths. The Fresheeze Mint Rope toy has the added benefit of improving oral health while your dog plays.
Food-Dispensing Toys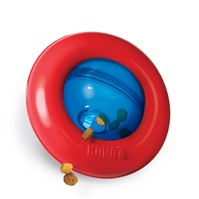 Food-dispensing toys are a great way to keep your dog entertained - especially if they enjoy their food. It helps them to develop problem-solving skills and exercise their mind and their body. They usually consist of a toy with a storage compartment for treats in the middle, and a small hole where the treats fall out as the dog bats it around. The KONG Gyro treat-dispensing toy is a particularly good example that is sure to provide endless joy for your dog as they try to work out how to get at the treats inside. Be careful about the calorie content of the food or treat that you put inside - make sure you count it in the daily food allowance so your dog does not become overweight.
Interactive Toys and Puzzle Toys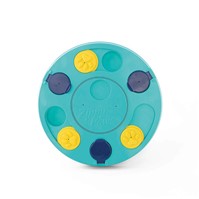 Interactive toys are a great way to keep your dog entertained. You can also be involved and encourage your pet to solve the puzzle but they are also good for them to do by themselves. They come in a variety of shapes and sizes, but all involve some type of puzzle that the dog needs to figure out in order to get to the treats or play ball. The Zippy Smart Paws treat dispenser is a brilliant toy that combines physical and mental challenges that your dog has to overcome to get at the food.
How Many Toys Should Your Dog Have?
There is no definitive answer to this question as it depends on the size and personality of your dog. However, it is important that you have a good amount of toys to keep on rotation and a combination of different toy types to create variety and allow for both quiet and active. If they only have one or two toys, they will lack the physical and mental stimulation they need and quickly become bored. It is healthy for your dog to learn to play with you and also by himself or with a doggy friend.
Remember to wash your toys regularly and check them frequently. Remove any pieces that might come away and become a choke hazard or cause problems in their gut.
When you first introduce a toy to your puppy or dog, watch them carefully for the first 5-10 minutes to make sure it is right for their mouth and that it is strong enough to withstand the doggy attention.
Wrap Up
Dogs need to play with toys to keep them happy and healthy, and dog toys are a great way to provide that. There are so many different types of dog and puppy toys available at Budget Pet Products, so you can get a good range for your dog. Buying them new toys will make sure that they are always healthy and their mind and body are active, so start browsing our range today!