Buyers Guide: The Best Cat Food
Are you looking for the best cat food? Maybe you're just interested in finding a quality, non-biased cat food nutrition comparison. Either way, you have come to the right place. Here you can find out everything you need to know about the best cat foods available, as well as knowing the best cat food ingredients you should be looking out for and whether you should be buying dry cat food, wet cat food or both.
What do we Look for in the Best Cat Food?
What should you look for when you are trying to find your cat the best food possible?
Ingredients
Ingredients are the things in the food that deliver the nutrition that your cat needs. These ingredients can be both animal and plant-based - depending on what they are providing. Good fillers can include sweet potato, potato starch or green peas.
Macronutrients
When choosing your cat food, ideally, you need to be focusing on protein first. You need to try and buy food that has a protein content of around 35-40%. Look out for foods that have a specific source other than meat, or a meat by-product. If you want to get good food, look out for meat such as salmon, tuna, turkey, chicken or even lamb.
Next up, fat. You may think that fat is bad for your cat, and this is true, but only in large quantities. Cats actually need a source of fat in their food. Cats need to have around 20-24% fat in their diet if possible. Cats will normally be attracted to a diet that is both balanced in fat and protein. Many cat owners make the mistake of buying food that is low fat because they think that this will prevent obesity. Cats need to have a good level of fat content, and if you feed your cat low-fat food then they will overeat in an attempt to meet their nutritional requirements.
Carbohydrates are an important part of your cats' diet, sources can be varied from sweet potato to grains, which are also a good source of vitamins. They also help to hold some of the many other ingredients together.

Other Nutrients
Vitamins and minerals are also essential to every cat. Minerals are essential for healthy bone and muscle development and also contribute to the formation of enzymes, and they also help with pH balance as well as oxygen transportation. Elemental minerals are taken from the earth or water and chelated minerals tend to be bound to other organic substances. This makes it much easier for the body to absorb them. Vitamins and minerals like this can include calcium, magnesium, sodium, chloride, iron and potassium, so it's wise to try and make sure that your cat food contains vitamins such as this. Organs are also packed full of nutritional value. Organs contain a lot of taurine, which is good for your cat and their diet. Cats rely on a dietary source of taurine so that they can maintain a good level of health. A taurine deficiency can lead to both blindness and heart disease.
Wet vs Dry Cat Food, What's The Difference?
If you want to know the difference between dry and canned food, look below.
Wet Food
The main difference between dry and wet food is essentially the amount of water that has been added. Dry cat food only contains around 10% of water, with the other 90% consisting of vitamins, carbohydrates and fat. Wet food contains up to 80% more water when compared to dry. This can be a very important factor if you aren't quite sure what to feed your cat, or if you have certain health conditions. Cats tend to be poor drinkers, so feeding wet food is a good way to introduce extra water into the diet. Cats with urinary conditions should always be fed canned food as part of their diet. Given the higher moisture that is present in wet food, they are normally made with fresh or frozen meat. The meats are usually blended with a protein source that comes from grain and the meat is blended with other fats, including vitamins, before it undergoes a heating process. This helps to ensure that any pathogens are destroyed. Take a look below to see the best affordable healthy cat food.
Dry Food
Dry food is used by cooking meats, fats, minerals, vitamins and more at a very high heat. This is done at a high pressure as well. All of this helps to make the starch much more digestible. Fat is either incorporated into the food or coated on the outside of the food to help increase palatability. Normally, dry food contains much more carbohydrates when compared to canned food. The protein and the fat that is present in canned food versus dry can vary depending on the diet of the cat. Certain formulations can also contain probiotics.

The Best Dry Cat Food
There are many brands of dry cat food that are able to offer numerous nutritional benefits to your cat. If you want to find out more about them, then simply look below.
Royal Canin
Royal Canin is a vet-founded brand that comes from France. They cover kittens to adults and even seniors, not to mention that they have nutritional profiles suited to outdoor cats, sleepy indoor cats and very active cats. They also have a range of breed-specific formulas as well. Royal Canin contains everything you need to ensure that your cat is happy and healthy.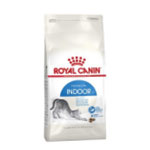 Hill's Science Diet
Hill's Science Diet is one of the two labels that are under Hill's Pet Nutrition. They offer biology-based nutrition for pets at all different life stages. Their dry food is very nutritious with various flavours available. Some of the flavours available across their range include fish entrée, seared tuna and roasted chicken. Hill's Science Diet can also cover a range of conditions, including ageing, food sensitivity, dental care and more. The label lists alternatives for neutered young cats, nursing cats or pregnant cats. The line is vet-recommended, and it contains a range of ingredients that are designed to give your pet the best possible food.
Pro Plan
Pro Plan is designed to give your cat's immune system a boost, not to mention that it supports their renal system and their digestive system. They have a range of foods designed for weight loss, as well as foods for indoor cats who have sensitive stomachs. The range covers dry and tinned foods.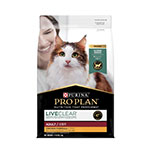 The Best Wet Cat Food
The best wet cat foods are as follows:
Advance
Advance cat food is often made by using Australian chicken and it is the ideal option if you want to provide a balanced diet to your cat. It is essential to their general wellbeing and it can provide them with a huge range of benefits. This can include plant extracts along with vitamins and minerals. The food also helps to boost cellular repair.
Black Hawk
Black Hawk are an Australian brand and they produce a lot of different food options. They include grain-free options as well as foods that are suited to cats with sensitive stomachs. They also have a range of food suited to elderly cats, and kittens.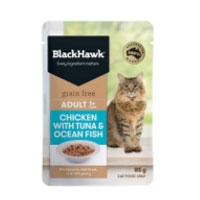 Ziwi Peak
Ziwi Peak offer a huge range of flavours, meaning that it is very easy to find something that will suit your cat and their individual needs. Ziwi Peak is the best option if you want to make sure that your cat is healthy with a great coat. Ziwi Peak cat foods often contain a huge range of vitamins and minerals too, which is essential to their development.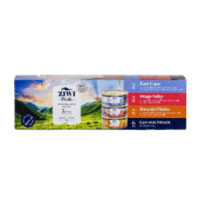 Can Kittens eat Adult Cat Food?
Kittens have very different nutritional needs when compared to adult cats. This means that they need kitten food that will support these kinds of needs. So, when can kittens go onto adult food? Although kittens should not eat adult cat food until they have matured fully, they can eat wet and dry food, far earlier. By four weeks, kittens can be introduced to eating moistened dry kibble and wet food.
The Best Cat Foods According To Your Cat's Age
The best cat foods according to your cat's age include:
Kitten
The best kitten food would be Advance. It's got everything your kitten needs to ensure a healthy coat and it is full of great ingredients too. If you have never looked into this food before, then now would be the time, as it contains gravy and your kitten just won't be able to resist it.
Adult
The best food for your adult cat would be Black Hawk or Fancy Feast, but if you find that your cat struggles with allergies then it may be wise for you to try Ziwi Peak. Black Hawk is great if you have an ageing cat who isn't quite at the senior point yet, then it's a very good option. The main reason for this is because it is very high in protein, which helps to ensure lean muscle and healthy bones. It also contains 32% real meat protein, and 16% quality fats. The healthy fats help to promote joint health, which is vital when your cat reaches their later years.
Old Cat
As your cat moves into his senior years his nutritional needs change and it is important that his food does too. Foods developed especially for senior cats such as those made by Hill's Science Diet and Royal Canin provided modified levels of protein and fat and additional ingredients to help your senior pet age gracefully.
Comparison Table
Brand

Type of Food

Origin

Reviews

Nutritional Info

Wet & Dry

France

5 Stars

Balanced minerals to maintain health of urinary system

Enriched with omega 3 fatty acids for healthy joints, omega 6 for a healthy coat f& taurine for heart health

Wet & Dry

US

5 Stars

Essential taurine for heart health & balanced minerals to support kidneys & bladder

High-quality protein for lean muscles

Vitamin E, Omega-3 & -6 fatty acids for beautiful skin & fur

Varieties for kittens, adult & mature cats

Free from artificial colours, flavours & preservatives

Wet & Dry
Australia
5 Stars

Antioxidant Vitamins C & E to help support cats immune system

Quality proteins to support lean muscle

Omega 6 plus Zinc for a healthy coat & skin

No added preservatives

Wet & Dry
New Zealand
5 Stars

Utilise free-range, grass-fed meats and local NZ poultry

Utilise organic kelp and green mussels to support brain, heart & joint function & maintain skin & coat health.

Wet & Dry
Australia
5 Stars

Original and Grain Free Formulas

Kitten, adult & mature varieties

Made in Australia with Australian ingredients

Contains meat, legumes and pulses

Wet
England
5 Stars

Complete & balanced food

Varieties for adult cats & Kittens

Essential vitamins & minerals to support overall health
Summing It Up
So as you can see, there are many types of cat food out there, but if you follow this guide and this table, you should be able to coordinate the best one for your cat. As listed in the table, Ziwi Peak is a great option for cats who like wet food, as it's ideal for allergies. That being said, if Ziwi Peak is not accessible for you, then Hill's Science or even Purina are very good alternatives for you to be looking at.