Budget Pet Products Top Picks For Dog Treats
Finding the best dog training treats will help you reward your pet and keep them healthy. Read this guide to find out more about some of the greatest dog treats available to buy right now.
Do you have a beloved pet you adore caring for? If so, then it's important to make sure that you are giving them the right food and this includes treats. Dogs can benefit from treats for a whole variety of reasons. But you do need to make sure that you are getting the best dog treats in Australia. There is a great selection available to purchase right now. The best low fat dog training treats will be great for training your pet and there are also treats that can help them maintain healthy teeth. In this guide we'll explore why treats are important for your furry friend, the different options available, what to look out for and the top choices for your pup right now.
Why Is It Important To Treat Your Dog?
Treating your dog is an important part of ownership. According to research, the trend of treats is also growing rapidly in popularity. Americans alone spend as much as $4 billion dollars per year on pet food including treats.
One of the main reasons to treat your dog is as a form of reward. This can help strengthen the bond you have with your dog. It can also be a fantastic tool when training your animal. You can treat them when they complete a taught skill successfully. Positive reinforcement works wonders here and a treat can be a powerful reinforcer. The best calming treats for dogs can also ensure that your dog is less anxious in stressful situations. For instance, some owners provide calming treats when fireworks are being set off outside.
You can even use treats to help maintain healthy teeth and gums.. This can save you from daily brushing because the best dental treats for dogs will do the heavy lifting for you. Some will even give your pet pup minty fresh breath which is great if they are an avid licker!
How Often Should You Give Your Dog A Treat?
There's no rule how often you should treat your dog. However, it's recommended that treats amount to no more than 10% of their daily calories. That's why low fat dog treats are so popular with owners. It also depends on the size of the treat. Some owners will give their pet one large biscuit each day. Others will provide 20 or 30 small chewys for their pet throughout the day, about one piece a time. Trial and error will soon tell you what works well for your dog.
Remember, it's important to treat your dog between meal times (i.e. when they are hungry), at least one hour after or before a meal. This will make it a better reinforcement tool for behavior. If it's too close to a meal, your dog will see it as a typical part of their diet. Particularly, if you are treating them on a daily basis.
What Should You Look For In Dog Treats?
There are a few key things to look for when checking treats before you buy them for your dog. First, you need to make sure that the treats aren't packed with filler ingredients. While there's some debate as to what constitutes a filler substance, you should try and get food with plenty of nutrients packed in. The basic nutrients dogs needs are:
Water

Protein

Fats

Carbohydrates

Minerals

Vitamins
An adult dog should get about 10% of total calories from proteins and a minimum 5% from fats.
You should also consider using organic dog treats for your pet. If you prefer to feed your dog organic food, there are a wide range of organic dog treats available. These can help to boost your dogs' immune system. If your dog is overweight try to choose a low fat treat. If your dog has allergies be sure to check the ingredients in the treat.
What Should You Avoid In Dog Treats?
When choosing dog treats for your pet, don't forget they don't care what colour their food is. Certain artificial food colourings including red 40, yellow 5 and blue 2 have been linked with cancer as well as behavioral issues in humans. As such, it's best to avoid colourings like this for your pet too.
Artificial preservatives are another ingredient to steer clear of. The problem with preservatives is that they can be toxic for your pet. Preservatives are used to stop animal fats going out of date too quickly. Natural preservatives made of vitamins C or E are fine. They are usually listed with the words ``tocopherol" or "ascorbate" Other artificial preservatives can be toxic and some such as ethoxyquin are also used as a pesticide and hardening agent. You don't want to feed this to your dog. Other ones to be wary of include butylated hydroxyanisole and butylated hydroxytoluene. This is another reason why the best treats for training your dog are those which are free of artificial preservatives
It's also important to watch out for chemical humectants and sweeteners such as sorbitol. Sorbitol is used to make the flavour of foods more appealing.These sweeteners an often cause upset tummies in our dogs
The Best Dog Training Treats
The best dog treats Australia can tick all the right boxes. These are some of the choices we think you and your pet will love.
Vitapet Liver Training Sticks Treats For Dogs
Made from real chicken liver, this delicious, chewy treat is a fantastic source of protein. It provides plenty of health benefits including assisting muscle function while boosting your pet's energy. It's even 97% fat free! These long sticks will give your pup the chewy treat that they crave.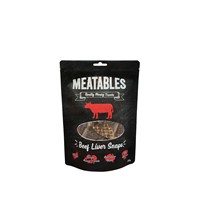 Meatables Beef Liver Snaps Premium Natural Dried Treat For Dogs
An all natural product made with 100% beef liver, this flavour filled treat is perfect for dogs with sensitive food allergies. They're great for controlling how much your dog eats too because you can break them down into smaller pieces. The treats come in a resealable bag so you can keep them fresh and delicious for far longer.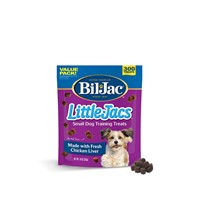 These tasty tiny treats made from chicken liver are a great all around product but particularly useful for training due to their size. As the name suggests, they could also be a fantastic option for smaller breeds. The chicken contained in the treat is also packed full with omega 3 fatty acids, providing benefits to the skin and the coat.
The Best Dog Calming Treats:
If your dog suffers from anxiety, issues with attachment or gets destructive when nervous, calming treats are a fantastic choice. These are just a couple of the options we recommend.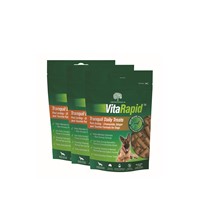 Vetalogica VitaRapid for Dogs Tranquil Daily Treats
As the name suggests, this treat will help your dog feel less anxious. They come highly recommended for dogs suffering from fear or anxiety You can use them when there's new household changes or other issues that impact your dog. With chicken and duck flavouring, this option is sure to go down a treat.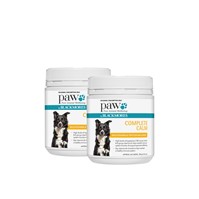 PAW By Blackmores Complete Calm Multivitamin And Tryptophan Chews For Dogs
These kangaroo flavoured chews are easy for your dog to consume and designed specifically to help with anxiety or stress. They contain some of the essential B group vitamins your dog needs. They have tryptophan which can help stress related anxiety or fear.
The Best Dog Dental Treats:
Keeping your dog's teeth healthy is key for their wellbeing. Using the best dog dental treats we recommend you'll find this an absolute breeze.
Greenies Dental Treats Original For Dogs
Using these chews, plaque can be wiped away naturally, and the formation of tartar reduced. They also provide your pet with lovely fresh breath and give them the healthy treat they deserve. Made from all natural ingredients these chews are low in fat so you can happily feed them at least one or two each day.
The dental chews are made with delmopinol technology. The unique formula helps trigger a 59% reduction in bad breath and 39% reduction in plaque. If that's not enough, they also come in a range of different sizes for various breeds and can help extend the time between dental check ups for your pet at the vet.
The Best Dog Low-Fat Treats:
Are you looking for the best low fat dog treats to keep your pup healthy and their weight on track? If so, then these are some of the best possibilities.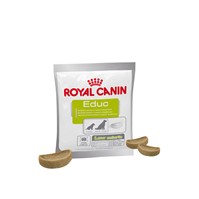 Royal Canin Educ Low Calorie Treats For Dogs
As well as being low in fat - there's less than 3 kcals per unit - this treat has a delicious taste that is sure to satisfy your furry friend. This makes it perfect for regular rewards and they are small enough for training sessions too.
Hills Prescription Diet Metabolic Treats For Dogs
This treat provides plenty of nutrients for your dog and it helps avoid hunger issues by keeping your pup full between meals. It has a great design too as this treat to support healthy weight loss comes in little bone shapes.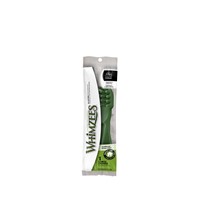 Whimzees Dental Toothbrush Treats For Dogs
A unique design, this dental treat looks like a massive toothbrush. As well as being low in fat, as you might have guessed, this delicious snack is going to help your dog's teeth too. It's a fantastic reward for your pet and it's even vegetarian so it's great if your dog has a sensitive diet.
The Best Treats To Keep Your Dog Busy
Sometimes you just want a little time to yourself. Whether you're watching the tube or working from home, these are the best dog training treats to keep your pet occupied and give you a chance to relax.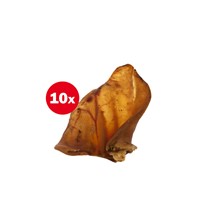 Petz Tucker Australian Pig Ears Treat For Dogs
To keep your dog entertained, you need something seriously chewy. There's nothing better than a 100% genuine pig ear. It's tough, it's dry and it will last for longer than you'd expect. If you're tired of your dog swallowing their treat in seconds this is the choice for you.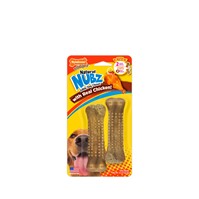 Nylabone Edibles Natural Nubz Chews Chicken Bacon Small Treats For Dogs
These chews are hard and firm, designed with the intention of boosting your dog's oral hygiene. They also taste like bacon and you'll soon discover there's nothing most dogs love more than this delicious flavour.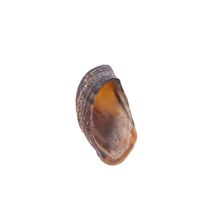 Petz Tucker Australian Cow Hoof Beef Chew Natural Beef Coated Treat For Dogs
Give your best four legged friend one of these to chew on and they'll soon forget that you ever existed. The delicious treats are certain to satisfy your dog and it's another way to ensure that your pet builds up a great level of oral hygiene.
Wrap Up
We hope this helps you choose some great treats for your furry friend. Remember, it's important to make sure that you do get high quality treats that will support your pet's overall health. Always check the ingredients and then decide on what you need the treat for. Whether you're looking for the best natural dog treats for training or low fat dog treats, they're all available from a wide variety of brands.